Do you live in Kentucky, New Mexico or Idaho?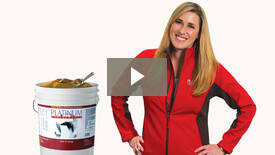 The Equine Wellness & Performance Formula
Give your horse more than 10 supplements in every scoop. Platinum PerformanceŽ Equine Wellness supports every part of your horse including digestion, joints, skin & coat, hooves, and much more. Formulated in veterinary practice after research and feeding trials, this highly palatable and effective supplement is the most popular Platinum PerformanceŽ formula and is appropriate for all horses; no matter their age, breed or activity level.
Benefits:

Joint Support
Bone Density Support
Hoof Support
Skin Health
Allergy Support
Digestive Support
Senior Horse Health
Immune System Support
Reproductive and Fertility Support

Components:

Omega-3 & 6 Fatty Acids
Trace Minerals
Antioxidants
Branched Chain Amino Acids
Glucosamine Sulfate 2KCl
Fiber
Biotin
Vitamins
Aloe Vera
Phytonutrients
100% Guaranteed since 1996
Here at Platinum, we stand by our formulas unconditionally. If for any reason you're not 100% satisfied, please contact us for a replacement or refund.
That's the Platinum Promise.
See All The Ways Platinum Performance® Equine Wellness is Helping Your Horse
Ingredients
Flax Seed, Flax Oil, Rice Bran, Low Lactose Whey Protein Concentrate, Sunflower Seed, Non-GMO Soy Flour, Cane Molasses, Performance Minerals™, Calcium Carbonate, d-Alpha-Tocopheryl Acetate, dl-Alpha-Tocopheryl Acetate, Mixed Tocopherols, Vitamin C (ascorbic acid), Glucosamine Sulfate 2KCl, Chromium Yeast, Selenium Yeast, L-Carnitine Tartrate, Zinc Gluconate, Magnesium Citrate, Manganese Citrate, Copper Gluconate, Cobalt Chelate, L-Lysine, Vitamin A, Vitamin D3, Iodine Chelate, dl-Methionine, Choline Bitartrate, Niacin, Calcium Pantothenate, Riboflavin, Biotin, Aloe Vera Concentrate, Vitamin B12, Thiamin Mononitrate, Pyridoxine Hydrochloride, Folic Acid. Made fresh daily with antioxidants to help maintain freshness. No fillers added.
Recommended Use
Administer 2 level scoops (132g) daily; give 2 scoops at one daily feeding, or give 1 scoop at two daily feedings. Servings based on average horse weight of 1,000 lbs.
| | |
| --- | --- |
| Broodmares & Breeding Stallions: | 1-2 scoops twice daily. |
| Cutting/Reining/Cow horse: | 1 scoop twice daily. |
| Draft horses: | 1-2 scoops twice daily. |
| Dressage horses: | 1 scoop twice daily. |
| Endurance horses: | 1-2 scoops twice daily. |
| Hunters: | 1 scoop twice daily. |
| Jumpers: | 2-3 scoops twice daily. |
| Pleasure horses: | 1 scoop twice daily. |
| Polo horses: | 1 scoop twice daily. |
| Racing/Barrel Racing: | 1-3 scoops twice daily. |
| Senior horses: | 1 scoop twice daily. |
| Miniature horses/Ponies/Young horses: | 1 scoop daily (per 500 lbs.). |
*Do not exceed 2 pounds per day unless directed by a veterinarian.
Recommended for use within 5 months of manufacture date. The 135lb size is recommended for supplementing more than four horses daily.
Per 132g (2 scoops) (min)
Energy
600cal
Carbohydrate (Min)
44g
Crude Protein (Min)
22g
Crude Fat (Min)
35g
12g
6g
Crude Fiber (Max)
13g
Arginine (Min)
1,520mg
Glycine (Min)
1,080mg
Methionine (Min)
356mg
Isoleucine (Min)
820mg
Leucine (Min)
1,210mg
Valine (Min)
1,100mg
Lysine (Min)
1,500mg
Tyrosine (Min)
490mg
Cystine (Min)
310mg
Phenylalanine (Min)
890mg
Threonine (Min)
831mg
Aspartic Acid (Min)
1,850mg
Alanine (Min)
940mg
Histidine (Min)
460mg
Proline (Min)
810mg
Glucosamine Sulfate 2KCl (Min)
850mg
Calcium (Min)
382mg
Calcium (Max)
448mg
Phosphorus (Min)
792mg
Sodium (Min)
80mg
Sodium (Max)
180mg
Magnesium (Min)
435mg
Potassium (Min)
1,254mg
Chloride (Min)
514mg
Sulfur (Min)
554mg
Copper (Min)
14mg
Iron (Min)
300mg
Manganese (Min)
136mg
Silicon (Min)
1,716mg
Zinc (Min)
120mg
Cobalt (Min)
0.6mg
Chromium (Min)
0.3mg
Selenium (Min)
0.8mg
Iodine (Min)
0.5mg
Vitamin A (Min)
5,000IU
Vitamin D (Min)
1,500IU
Vitamin E (Min)
620IU
Folic Acid (Min)
7.5mg
Thiamin (Min)
6mg
Riboflavin (Min)
10mg
Niacin (Min)
25mg
Choline (Min)
100mg
Pyridoxine (Min)
20mg
Pantothenic Acid (Min)
48mg
Biotin (Min)
2.5mg
Cyanocobalamin (Min)
0.03mg
"I can't say enough good things about your products and service!!! Your service, both customer service and shipping are excellent. Your company is well run; it shows in your products consistency and your service."
Linda Fisher Platinum Performance Client since 2003
---
"I've put the whole barn on Platinum Performance."
Robbie Boyce NRCHA Snaffle Bit Futurity Champion, Platinum Performance Client since 2002, Sponsored by Platinum Performance
---
"Often I not only rate a company by their product, but the shipping office and customer service as well. I am confident (extremely) about the Platinum company based on the results in my horses, but in all the supporting employees. Thank you for your 5 Star Company!"
Julie Cross Platinum Performance Client since 2005
---
"Thanks to dedication, a lot of hard work and Platinum Performance, we've turned Carlsson into a one-of-a-kind horse, and truly great champion."
Will Simpson Olympic Gold Medalist, Platinum Performance Client since 1996, Sponsored by Platinum Performance
---
"As a first time user of Platinum Performance Equine supplements, I must say that I am impressed! Our racehorses look fantastic and have improved their stamina levels. Noticeable changes occurred within the 2nd week of being on your product. Thank you and keep up the good work!"
Kim Laudati Platinum Performance Client since 2006
Email

Telephone

(800) 553-2400 Toll Free

6 a.m. - 5 p.m. (Pacific) Monday-Friday
6 a.m. - 1 p.m. (Pacific) Saturday

Platinum Promise

You have our word.
100% guarantee on all of our products.